Before measuring your windows, you'll need to make a few decisions about your curtain design:
1. Track Position: Face Fix or Top Fix?

First, you'll need to decide if you'd like your curtains to hang just above your window (Face Fix) or hang from the ceiling (Top Fix)?
We recommend Face Fix where
Ceiling has a cornice
You'd like some flexibility with the height of your track
And we recommend Top Fix where
The top of your window is fairly close to the ceiling
You're installing into a recess
Installing into a pelmet or bulkhead
Note: If installing top fix inside a bulkhead or recess, you will need at least 100mm of clearance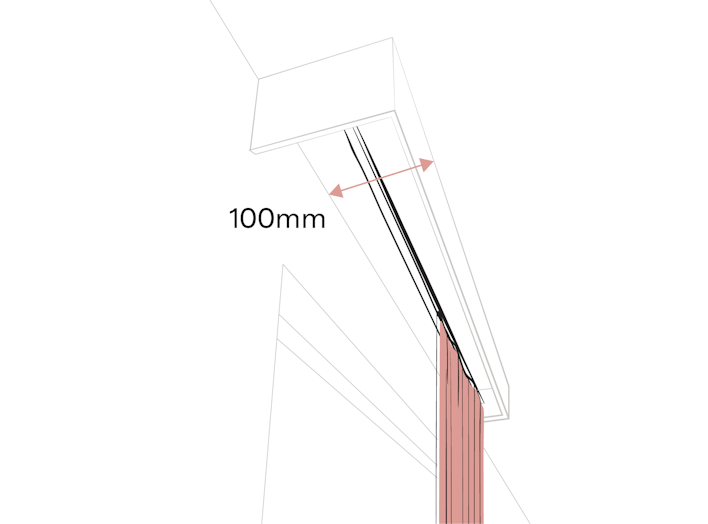 2. Wall to wall or just over the window?
Next you'll decide whether you'd like the width of your curtains to span your wall or just cover the width of your window?
Wall To Wall:
Great for living areas
Ideal for covering multiple windows
Allows more light when open
Cover Window:
Great for bedrooms
Ideal for smaller windows
Limits some light for blockout
3. How you'd like your curtains to sit on the floor?
Finally, you'll need to decide if you'd like your curtains to sit just above the floor or puddle?

Puddling is ideal if you want a luxe look but not great if you have pets. Expect some creasing in the fabric
Having your curtains finish just above the floor will give you a modern style and easier maintenance
Floors can be uneven and all fabrics fall in a different way. Getting your curtain to 'kiss the floor' can be difficult, so we recommend either designing it to sit just above the floor or to puddle
You've made your decisions about how you'd like your curtain to hang. Now it's time to measure! Now check out our guide for measuring.